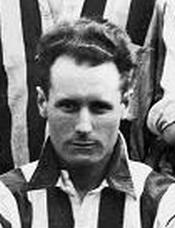 Full Name:
Ralph Charles Brown
Date of Birth:
Q1 1904
Place of Birth:
Fulham, London
Date of Death:
1976
Place of Death:
Chelsea, London
Ralph Brown
(1924/25 - 1929/30)
Joined the Dons in October 1924 from Wimbledon & District League side Van den Berghs, scoring on his debut for the reserve team in a 9-1 London Intermediate Cup win over Carshalton Athletic's reserves.

The joint holder of Wimbledon's individual goalscoring record, scoring six in the clubs record 15-2 victory over Polytechnic in the 1929/30 F.A. Cup.

Joined Dulwich Hamlet at the start of the 1928/29 season, but the Champion Hill side did not consider him fast enough for the inside-right position and he returned to Wimbledon in time for the start of the F.A. Cup campaign at the end of September.

He was one of the five Wimbledon players who joined Hayes for their first season in the Athenian League in 1930-1, when the club made its one and only appearance in the Amateur Cup final. Of the five, Ralph stayed the longest. He was already 25 when he came to Cox's Meadow, having toured Germany during the summer of 1930 as a guest with Ilford, the Amateur Cup holders, and had also previously played for Dulwich Hamlet. But he had the misfortune to miss the final, owing to injury. He continued to play for Hayes until 1935, even captaining the club in 1934-5, when he went briefly to Uxbridge, before returning as player coach of the reserves in 1936-7. He made a total of 173 appearances and scored at least 72 goals. He was selected for Middlesex, and for the Southern Counties in the annual international trial against the North, at Leyton in 1932, but was released from the match and played for Hayes instead. At the end of the war he became 2nd XI team manager, but resigned in December 1945, owing to ill health. In fact, he became seriously ill in Mount Vernon Hospital in March 1946, and a collection was held at the FA Cup tie with Uxbridge in October 1946, raising £26-2s-0d. He obviously got over this, as he was reported as attending the Amateur Cup tie with Norwich OBU in January 1972, together with former team-mate Jack Maskell.

Ralph picked up an injury in the final of the Middlesex Senior Cup on Easter Monday, which led to him missing the Amateur Cup final on the following Saturday.
1924/25
: Appearances: 0 - Substitute: 0 - Goals: 0
1925/26
: Appearances: 0 - Substitute: 0 - Goals: 0
1926/27
: Appearances: 0 - Substitute: 0 - Goals: 0
1927/28
: Appearances: 0 - Substitute: 0 - Goals: 0
1928/29
: Appearances: 0 - Substitute: 0 - Goals: 0
1929/30
: Appearances: 0 - Substitute: 0 - Goals: 0
- Total: Appearances: 0 - Substitute: 0 - Goals: 0