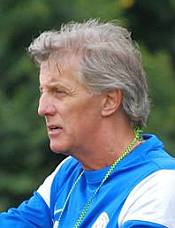 Full Name:
Alan Sellers
Date of Birth:
12 June 1958
Place of Birth:
Wimbledon
The nephew of Tommy Vansittart, Alan was young striker who played regularly for the reserve team during the 1975/76 season, scoring 14 Suburban League and 2 cup goals in 31 appearances and a hat-trick in his final match for the Dons, a 7-1 friendly victory against Clovelli in a short end of season tour to Devon.

He moved on to Carshalton Athletic in 1976/77 and Whyteleafe in 1977/78.

He is now the First Team Football Coach at Kings College London University and an Independent Business Coach and NLP Practioner [www.coachingwins.co.uk]. He is an FA Coach Mentor, working as an FA Level 3 Licensed UEFA B coach and helps the AFC Wimbledon Foundation with community events, and as a Foundation Coach.

1975/76
: Reserves
- Total: Appearances: 31 - Substitute: 0 - Goals: 16