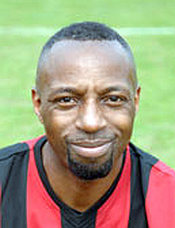 Full Name:
Jeff Hamlette
Date of Birth:
Unknown
Place of Birth:
Unknown
Trialist forward who played and scored for the reserves at Orient in 1984/85. Joined Tooting & Mitcham for the rest of that season and Was a regular there for the next two seasons before joining Crawley Town in the Southern League for 1987/88.

Known as "Hamlette" at Wimbledon and Sutton, "Hamlet" at Tooting.

Appears to have played alongside MC Harvey, among others, for charity side Celebrity United in 2007/08.
1984/85
: Reserves
- Total: Appearances: 0 - Substitute: 0 - Goals: 0