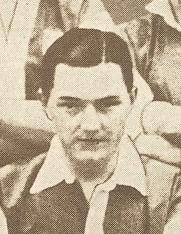 Full Name:
William Charlton
Date of Birth:
04 June 1912
Place of Birth:
South Stoneham, Hampshire
Centre-forward Bill ably bridged the gap between Doc Dowden and Harry Stannard. An Oxford blue, he joined Second Division Southampton while still at university and made his Football League debut on 16 January 1932 in a 3-3 draw with Preston North End. He scored on his second, and final, game for the Saints, a 1-5 defeat at Wolves. In 1934/35 he played three League games for Hull City, scoring once more, before joining Wimbledon for the 1935/36 season. In his only season at Plough Lane he scored 22 goals in 27 games, represented the Isthmian League and played 3 times for the England Amateur International Team, scoring a debut hat-trick against Ireland at Blackpool on 24 February 1935. He also scored 16 times in 20 appearances for the touring Corinthians between 1933 and 1936. He joined Queens Park Rangers as an Amateur at the start of the 1936/37 season and scored 10 goals in 20 League matches before playing out a further two seasons at Barnet, Leyton and on the books at Fulham, although not playing any League games for the Cottagers.

After the Second World War he became a headmaster in a London school before retiring to Barnes.

It's believed he died in 1998.
=== Wikipedia entry ===
William Charlton (born 4 January 1912) was an English footballer who played at centre-forward in the Football League for various clubs in the 1930s, including Southampton, Hull City and Queens Park Rangers. He also played for the Corinthians and the England national amateur football team.
Charlton was born in the South Stoneham area of Southampton and was educated at Peter Symonds School, Winchester before going up to St Edmund Hall at the University of Oxford where he represented Oxford University at football and won his blue.
While still at university, he joined Southampton of the Football League Second Division as an amateur, making two appearances at centre-forward; on 16 January 1932 in a 3–3 draw with Preston North End and on 13 February 1932 when he scored a consolation goal in a 5–1 defeat at Wolverhampton Wanderers.
Between 1933 and 1936, Charlton was a member of the Corinthian amateur club, for whom he made 20 appearances, scoring 16 goals, including two against Stade Francais in Paris in April 1934.
In November 1934, he joined Hull City scoring once in three league appearances, before a spell with Wimbledon. In May 1936, he signed his first professional contract with Queens Park Rangers and played 20 matches, scoring ten goals, in the Football League Third Division South.
He earned his first England amateur cap in 1936, making four appearances in total and scoring three goals, a hat-trick against Ireland.
Later career

During Second World War, William Charlton was in Royal Navy-Lt.Commander. After the war, Charlton worked for various Oil companies including Shell Mex before retiring to Barnes, He died in 1998.

=== Wiki ===


1935/36

: Appearances: 0 - Substitute: 0 - Goals: 0

- Total: Appearances: 0 - Substitute: 0 - Goals: 0