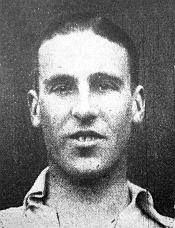 Full Name:
Nobby 'H A' Clark
Date of Birth:
c1899
Place of Birth:
Unknown
Nobby Clark
(1921/22 - 1923/24)
Nobby was popular with the Plough Lane crowd and was rarely seen without a smile. At 6' 1" and over 13 stones he was a natural centre-back.

He played in the same Swaffield Road School as Fred Gregory, alternating between goalkeeper and forwards, and soon after leaving in 1914 he joined the Royal Flyinf Corps. He played regularly for their junior side that was undefeated in two years in the Aldershot Command. Transferring overseas he played several representative matches in Egypt.

On returning to blighty he joined Wimbledon, and after one match in the strollers he was thrust into the reserves. A bad knee injury stopped him playing for several months in 1922/23 but he was a regular in the title-winning reserve team of 1923/24, making a solitary appearance in the senior side.

Useful at tennis and cricket, Nobby was also an excellent swimmer, winning the Aldershot Command championship when only 16 and gaining a number of medals both at home and in Egypt.