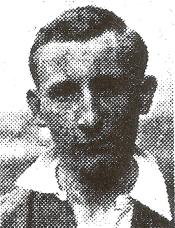 Full Name:
Joseph Henry E Clements
Date of Birth:
11 October 1920
Place of Birth:
Wandsworth, London
Date of Death:
Q1 2001
Place of Death:
Crawley, Sussex
Joe Clements
(1938/39 - 1941/42)
Played for Wimbledon in the lead up and first couple of seasons during the Second World War, having previously been at Fulham.

During the War he served for four years as a sergeant in the 4th Battalion of the Dorset Regiment.

Joined Epsom Town after the Dons disbanded during World War II. Later played for Erith & Belvedere.
1938/39
: Appearances: 0 - Substitute: 0 - Goals: 0
1939/40
: Appearances: 0 - Substitute: 0 - Goals: 0
1940/41
: Appearances: 0 - Substitute: 0 - Goals: 0
1941/42
: Appearances: 0 - Substitute: 0 - Goals: 0
- Total: Appearances: 0 - Substitute: 0 - Goals: 0
Genealogical Research:
These are research notes and may not relate to the player. Handle with care!

Married Annie Frances Lumley at West Kensington Congregational Church on 25 September 1948, resident at 308 Cowley Mansions, Mortlake.

1939, Bakerlite Finisher, with father Stephen George (House painter) and mother Louisa Dorothy nee Wilton (Daily help) at 1 Roskell Road, Wandsworth