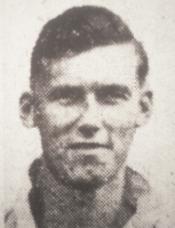 Full Name:
Eric Arthur Curnow
Date of Birth:
22 February 1905
Place of Birth:
Lambeth
Date of Death:
11 August 1945
Eric Curnow
(1927/28 - 1935/36)
Born in Lambeth, but moved to Wimbledon at an early age.

Joined the club from Wimbledon & District League side Wimbledon Park Athletic, where he played alongside his brother Jack, at the start of the 1927/28 season. Made his debut at Dulwich Hamlet in the second match of the season, playing up front, but thereafter was a regular in the reserves or strollers.

Converted to full back for the following season, and although he played mostly in the reserves, he was a reliable replacement at full back and played there regularly in the second half of that season when Sammy Sowter was indisposed. Eric stayed with the club past his 30th birthday, still standing in for the odd first team match when called up.

He was selected for the Isthmian League reserve XI against the Spartan League reserve XI at Ware on 24/10/1929.
1927/28
: Appearances: 0 - Substitute: 0 - Goals: 0
1928/29
: Appearances: 0 - Substitute: 0 - Goals: 0
1929/30
: Appearances: 0 - Substitute: 0 - Goals: 0
1930/31
: Appearances: 0 - Substitute: 0 - Goals: 0
1931/32
: Appearances: 0 - Substitute: 0 - Goals: 0
1932/33
: Appearances: 0 - Substitute: 0 - Goals: 0
1933/34
: Appearances: 0 - Substitute: 0 - Goals: 0
1934/35
: Appearances: 0 - Substitute: 0 - Goals: 0
1935/36
: Appearances: 0 - Substitute: 0 - Goals: 0
- Total: Appearances: 0 - Substitute: 0 - Goals: 0
Genealogical Research:
These are research notes and may not relate to the player. Handle with care!

1911 Census
8 Waldemar Road Wimbledon
M: Elizabeth (Wexford 1870)
F: John (Lambeth 1874)
S: John (1903), Geoffrey (1908)

1945
Royal Naval Volunteer Reserve
Lieutenant
H.M.S. Laomedon