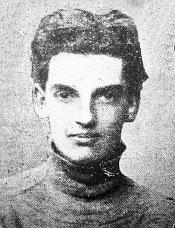 Full Name:
Stanley Cecil Darvill
Date of Birth:
1904
Place of Birth:
Watford, Herts
Date of Death:
1978
Brother of Fulham's Harvey, Watford's Alfred and Ilford's Don.

Played minor football in his home town of Watford for Kingham Institue where he was leading scorer for two seasons, helping them win the Watford & District League. Joined Wimbledon on the recommendation of his brother Don, who had broken a leg playing against Wimbledon in an Amateur Cup tie and was forced to spend a time at Nelson Hospital.

Slight, but with a neat style, close dribbling and swerving and a wicked shot.

Harvey died on 26 November 1924 after plaing in a match with Coventry City. Complaining of stomach pains after returning to his home in Watford, he was admitted to hospital where he died of a burst blood vessel in his stomach. It was suspected that malaria that he had contacted during service in the Far East had been a contributory factor.
1923/24
: Appearances: 0 - Substitute: 0 - Goals: 0
- Total: Appearances: 0 - Substitute: 0 - Goals: 0