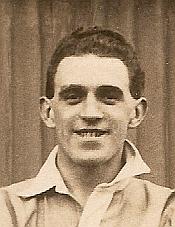 Full Name:
David Brychan Evans
Date of Birth:
09 March 1904
Place of Birth:
Merthyr Tydfil, Wales
Date of Death:
Q2 1971
Place of Death:
Sutton, Surrey
Dave Evans
(1930/31 - 1931/32)
Joined Wimbledon having come to their attention playing against them for Aldershot Traction Company in the 1929/30 Amateur Cup, along with Ossie Parry.

He mad an immediate impression at inside-right, helping the Dons to their record breaking first Isthmian League title and the club's first London Senior Cup trophy.

When Parry turned profession with Crystal Palace for the 1931/32 season both Dave and Fred Gregory signed amateur forms at Selhurst Park, but Dave remained as a integral part of the Wimbledon team that retained the Isthmian League title.

He soon gaining a Welsh amateur international call-up, playing against England in 1931 and Scotland in 1931 and 1932.

Dave was an electrician for the Wimbledon Corporation.
1930/31
: Appearances: 0 - Substitute: 0 - Goals: 0
1931/32
: Appearances: 0 - Substitute: 0 - Goals: 0
- Total: Appearances: 0 - Substitute: 0 - Goals: 0
Genealogical Research:
These are research notes and may not relate to the player. Handle with care!

b1904

1911
Gwynfa No 3 Pant Road Dowlais, Merthyr Tydfil
m: Margaret Ann (Jones) (1871)
f: William Harris Evans (1870)
s: Margaret, William, Olwen, Tydfil

1939
171 Barnes Lane , Merton
w: Morfydd (1903-1977)