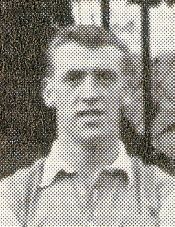 Full Name:
Arthur Field
Date of Birth:
1927
Place of Birth:
Beckenham, Kent
Pat Field
(1945/46 - 1955/56)
Having played for Churchfield Old Boys, Arthur, known as Pat, was introduced to the club by his work colleague, Dons' captain Frank Lemmer, soon after the end of the Second World War, but after only six games left for the Persian Gulf where he served aboard HMS Wild Goose in the Royal Navy, where he was selected for the England services team to play Scotland in Ceylon in 1947.

Returning in March 1948, he broke back into the first team at left back in the 1949/50 season and was an influential figure, turning down the chance to turn professional with Millwall, as Wimbledon twice finished second in the Isthmian League and won the London Charity Cup. Six foot tall and very quick he formed formidable full back pairing with Arthur Maggs during the early 1950s and he was a popular figure in the dressing room due to his laid back manner and lively sense of humour. His final game was during the 1955/56 season, and his place was soon filled by his brother-in-law, George Coote.

An electro-mechanical engineer for Shell, Pat retired in 1987 and lived in Bromley until he passed away after a heart attack in July 1999.
1945/46
: Appearances: 6 - Substitute: 0 - Goals: 0
1949/50
: Appearances: 26 - Substitute: 0 - Goals: 0
1950/51
: Appearances: 35 - Substitute: 0 - Goals: 0
1951/52
: Appearances: 0 - Substitute: 0 - Goals: 0
1952/53
: Appearances: 0 - Substitute: 0 - Goals: 0
1953/54
: Appearances: 0 - Substitute: 0 - Goals: 0
1954/55
: Appearances: 0 - Substitute: 0 - Goals: 0
1955/56
: Appearances: 0 - Substitute: 0 - Goals: 0
- Total: Appearances: 67 - Substitute: 0 - Goals: 0
Genealogical Research:
These are research notes and may not relate to the player. Handle with care!

This appears to be the marriage referred to in the text

Marriages Jun 1956
Coote Daphne V Field Bromley 5b 156
Field Arthur J W Coote Bromley 5b 156

So perhaps this is the birth?
Births Dec 1927
Field Arthur J W Walsh Bromley 2a 836