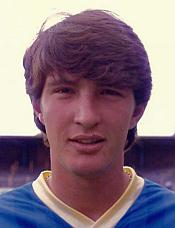 Full Name:
Paul A Fishenden
Date of Birth:
02 August 1963
Place of Birth:
Hillingdon, London
Paul Fishenden
(1981/82 - 1985/86)
A promising centre-forward and prolific goalscorer in the reserves, Fish never quite realised his potential. His chances were limited by the partnership of Stewart Evans and Alan Cork that took the club from the Fourth Division to the First. The arrival of John Fashanu effectively ended any chance he had of securing a regular first-team place.
=== Wikipedia entry ===
Paul Fishenden (born 2 August 1963) is an English former professional footballer who played in the Football League as a forward.
Honours
Crewe Alexandra
Football League Fourth Division third-place promotion winner: 1988–89
=== Wiki ===


1981/82

: Appearances: 0 - Substitute: 0 - Goals: 0

1982/83

: Appearances: 0 - Substitute: 0 - Goals: 0

1983/84

: Appearances: 0 - Substitute: 0 - Goals: 0

1984/85

: Appearances: 0 - Substitute: 0 - Goals: 0

1985/86

: Appearances: 0 - Substitute: 0 - Goals: 0

- Total: Appearances: 0 - Substitute: 0 - Goals: 0