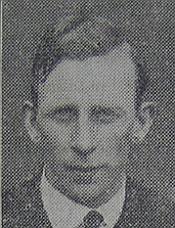 Full Name:
William James Gatland
Date of Birth:
06 July 1898
Place of Birth:
Marylebone, London
Date of Death:
Q4 1989
Place of Death:
Kingston upon Thames
Billy Gatland
(1928/29 - 1929/30)
Hailing from Twickenham, Billy played three seasons at right-back for Twickenham Juniors after leaving school, before the War intervened and he joined the Royal Air Force. During his time in the forces he converted to centre-forward and, eventually, right wing.

After the War he joined Twickenham Melrose and was soon invited to join Ilford, making his debut in March 1919 and winning Isthmian League titles with them in 1920/21 and 1921/22.

While at Ilford he also signed amateur forms for West Ham United and made his only appearance for them in Division II on 02 May 1921 against South Shields, a 2-1 victory at Upton Park.

He was a regular on the representative circuit, culminating in his selection for England amateurs, a 4-1 victory over Ireland at Filbert Street on 14 November 1921.

By now married and living in Kingston, he decided to join his local club during the 1922/23 season, and after a short spell there he joined Dulwich Hamlet.

A "W Gatland" was playing for Redhill in 1926/27.

He played at Wimbledon for two seasons and was reported to be a bustling and clever winger with a deadly centre and the ability to fire in a hard shot from any angle.

He was reported to be still playing regularly for Surbiton at the age of 41 when selected for the Wimbledon Past XI for the postponed Boxing Day 1938 fixture and he played in the re-arranged fixture in May 1939.
1928/29
: Appearances: 0 - Substitute: 0 - Goals: 0
1929/30
: Appearances: 0 - Substitute: 0 - Goals: 0
- Total: Appearances: 0 - Substitute: 0 - Goals: 0
Genealogical Research:
These are research notes and may not relate to the player. Handle with care!

Royal Navy
Service number F17946

Royal Air Force
Attestation date 07 Jul 1916
Occupation Clerk
Service number 217946
Enlisted 1917/04/01

1901
Chichester Mews, 21, Upper Westbourne Terrace, Paddington
Father: William, 1876 Wallington, Police Constable Metropolitan
William James Gatland, warrant number 81354. Joined on 22 June 1896, and left on 27 June 1921. Last posted to T Division as a PC.
The Cherry Tree, Soham, was managed by William senior after his retirement from the Police Force
Mother: Florence, 1875 Deadham Suffolk

1911
7 Andover Terrace Twickenham, Twickenham
F+M
B: Cecil, 10
S: Lilliam, 7 + Florence, 2
GF: William, 75 Wallington (Gardener)

1921 Q3
Married Ruth Whitworth, Brentford