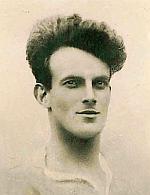 Full Name:
Edgar Andrew Goodens
Date of Birth:
1896
Place of Birth:
Wandsworth, London
Date of Death:
19 March 1969
Edgar Goodens
(1914/15 - 1929/30)
Born in Balham in July 1896 Edgar attended Haydon's Road School where he was considered one of the outstanding sporting talents in the district, excelling at cricket, football, running and swimming. At 15 he was selected for the annual Wimbledon vs Jack Hobbs XI charity cricket match and in a similar game in 1920 bowled Hobbs and Sandiford in consecutive balls.

Although cricket was always his first love, he was always involved in football and played locally for Woodside Athletic and Wimbledon Albion and alongside older brother Arnold at St Andrew's Athletic, before both brothers joined Wimbledon in 1914/15. He was soon off to serve in the Great War and didn't play any serious football until the Armistice was signed, then captaining the 52nd Brigade RGA to the semi-final of the 1st Army Cup.

After demobilisation he played for Merton, winning Section A of the Southern Amateur League and reaching the final of the A.F.A. Senior Cup, representing the League three times, but was soon back at Plough Lane. Received early honours with the Isthmian League and Surrey representative sides and was hotly tipped for international honours. Went on to play for another decade between 1920/21 and 1929/30, before hanging up his boots and joining the club's committee.

He continued to play with bat on ball and was a notable player for Merton C.C., also playing regularly for the Wimbledon FC Cricket Section, who took to the field several times each close-season.


1914/15: Appearances: 0 - Substitute: 0 - Goals: 0
1920/21
: Appearances: 0 - Substitute: 0 - Goals: 0
1921/22
: Appearances: 0 - Substitute: 0 - Goals: 0
1922/23
: Appearances: 0 - Substitute: 0 - Goals: 0
1923/24
: Appearances: 0 - Substitute: 0 - Goals: 0
1924/25
: Appearances: 0 - Substitute: 0 - Goals: 0
1925/26
: Appearances: 0 - Substitute: 0 - Goals: 0
1926/27
: Appearances: 0 - Substitute: 0 - Goals: 0
1927/28
: Appearances: 0 - Substitute: 0 - Goals: 0
1928/29
: Appearances: 0 - Substitute: 0 - Goals: 0
1929/30
: Appearances: 0 - Substitute: 0 - Goals: 0
- Total: Appearances: 0 - Substitute: 0 - Goals: 0
Genealogical Research:
These are research notes and may not relate to the player. Handle with care!

Edgar Goodens
Born c q3 1896 Wandsworth

1896
Baptism 22 Jul 1896 Christ Church, Balham

1901
87 Quicks Road, South Wimbledon (Shop)
George 33 Greengrocer Newington
Eliza M 32 Bermondsey
George 9 Battersea
Arnold 5 Battersea
Edgar 4 Battersea

1911
87 Quicks Road, South Wimbledon (Shop)
George James 43 Grocer
Eliza Mary 41
George 19 Salesman Gents Underwear
Arnold 15 Draughtsman, Publishers
Edgar 14 Clerk, Silkman
1922
Married Edna Blanche Radford
10 June 1922 at Merton St. Mary
Father George James Goodens
Fbride Alfred Radford

1969
Died March Aged 72 Merton