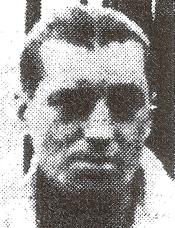 Full Name:
Ernest Henry Balkwill
Date of Birth:
09 September 1908
Place of Birth:
Lambeth, London
Date of Death:
1967
Place of Death:
Sutton, Surrey
Ernie Balkwill
(1930/31 - 1939/40)
Joined Wimbledon from Leytonstone during the 1930/31 season, initially playing as backup to Fred Gregory. Became a first team regular the following season, but left after the New Year for London League side Park Royal, but soon returned to the Dons.

Quit the again Dons during 1936/37 and moved to Leyton, before signing for Ilford in time to play on Boxing Day.

Returned to Wimbledon during the 1939/40 season.
1930/31
: Appearances: 0 - Substitute: 0 - Goals: 0
1931/32
: Appearances: 0 - Substitute: 0 - Goals: 0
1932/33
: Appearances: 0 - Substitute: 0 - Goals: 0
1933/34
: Appearances: 0 - Substitute: 0 - Goals: 0
1934/35
: Appearances: 0 - Substitute: 0 - Goals: 0
1935/36
: Appearances: 0 - Substitute: 0 - Goals: 0
1936/37
: Appearances: 0 - Substitute: 0 - Goals: 0
1939/40
: Appearances: 0 - Substitute: 0 - Goals: 0
- Total: Appearances: 0 - Substitute: 0 - Goals: 0
Genealogical Research:
These are research notes and may not relate to the player. Handle with care!

1908
b: Q4 Wandsworth
m:

1911 Aged 2
13 Bognor St Battersea
f: John (Labourer, Bristol 1870)
m: Ada (Westminster 1872)
s: John, Arthur, Ada, Albert, Fred, Charles, (Ernest), Alice

1933 Q4
Married Ivy M Strowger, Lambeth

1939 Yeovil Street, Battersea
Munitions Toolmaker
w: Ivy M Balkwill
c: Joan Balkwill (1935) +1