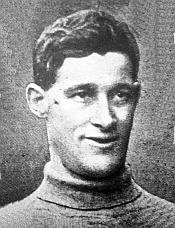 Full Name:
George Griffen
Date of Birth:
Unknown
Place of Birth:
Unknown
George Griffen
(1923/24 - 1924/25)
Part of the Mitcham Wanderers team that won Division Three of the Wimbledon & District League in 1912/13, George migrated to Mill Green Rovers the following season and helped them to second place in the Division One and the Wimbledon & District Charity Cup. When War intervened he joined the 5th East Surrey Territorial Battalion and was posted to India. He moved to Mesopotamia with the 5th Battalion Queen's (Royal West Surrey) Regiment and continued to play at both Regimental and Divisional level. He returned to the East Surreys before demobilisation, after which he rejoined Mitcham Wanderers as they won the Thornton Heath & District League the Croydon Charity Cup and the Surrey Junior Cup, twice playing for Crystal Palace reserves. Three years at Woking followed, during which he won his Surrey cap and two badges and played for the Isthmian League against the Southern Amateur League (at Plough Lane in 1921) and for an F.A. XI against the Royal Navy at Portsmouth.

Joining Wimbledon at the start of the 1923/24 season, he was immediately selected for the first XI and his dexterity between the sticks and uncanny anticipation meant he played the majority of the games that season. He was described as having a punch like a horse's kick and the ability to throw the ball as far a some players could kick it.

Also a useful boxer and cricketer, George played for Mitcham C.C. and represented the Surrey Club and Ground.

Later played for Tooting Town (1925/26,1927/28).
1923/24
: Appearances: 32 - Substitute: 0 - Goals: 1
1924/25
: Appearances: 3 - Substitute: 0 - Goals: 0
- Total: Appearances: 35 - Substitute: 0 - Goals: 1
Genealogical Research:
These are research notes and may not relate to the player. Handle with care!

First name(s) Geo
Last name Griffen
Service number 1094
Age 19 Years 5 Months
Birth year 1896
Birth place Norwood
Occupation Fitter
Attestation year 1915
Attestation date 29 September 1915
Attestation place Kingston
Unit or regiment East Surrey Regiment
Regiment East Surrey Regiment
Height 5ft 2in.
Weight in pounds 112
Chest expansion inches 2.5
Chest size inches 33.5
Remarks 11 Cotswold St Norwood