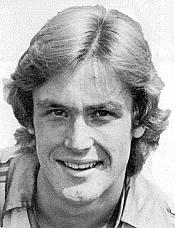 Full Name:
Lee Harwood
Date of Birth:
04 October 1960
Place of Birth:
Perivale, London
)

Years Team Apps (Gls)
1976-1979 Southampton 0 (0)
1979 > Wimbledon (loan)
1979-1980 Leatherhead
1980-1981 Port Vale 19 (1)
Leatherhead
Waterlooville
Total 19+ (1+)

1978/79
: Appearances: 0 - Goals: 0
-- Total Appearances: 0 - Goals: 0
Genealogical Research:
These are research notes.
If this information is proved to relate to the player then it will be moved into the player details.
Former Southampton apprentice, whose SW19 career was blighted by injury - typified by a hamstring tear which forced him out of his Wimbledon debut against Darlington in 1979 after just 20 minutes (his only ever first team start). Later went on to Port Vale (19 appearances - 1 goal) and then Leatherhead. An unsung but instrumental figure in the Wimbledon Common AFCW player trials in 2002, Lee became Terry Eames' Assistant Manager in the inaugural CCL season, before moving to Netherne to coach alongside 'Trigger' Mulcaire.