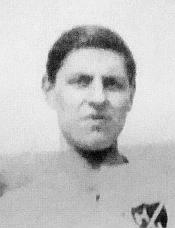 Full Name:
Horace George Jennings
Date of Birth:
13 April 1903
Place of Birth:
Croydon district
Date of Death:
28 August 1973
Place of Death:
Mayday, Croydon
A full-back who started his Wimbledon career in the reserve team of the Wednesday section in 1924/25. By the following season he was playing regularly for the senior Wednesday side and by the second half of 1926/27 he was a fixture in the senior reserves, making his debut in a friendly at Ware in December 1926.

His debut for the Dons' first team was on 11 March 1927 in an Isthmian League 0-1 defeat at Leytonstone, standing in for England amateur international Fred Gregory. He received mixed reviews, the Wimbledon Boro' News report describing his performance thus, "He is too small, and although he had plenty of pluck, he failed when hard prssed, and but for Sowter, his partner, Wimbledon would have been in terrible trouble.", but the local commentator said "Jennings, from the Wednesday team, played on the left and gave a very good show." Critics!

The following week he was surprisingly selected at left wing for the reserves, and it was in that position that he made his second, and final appearance for the first team a few weeks later, a 2-1 defeat against The Casuals at Kingstonian's Richmond Road ground.

He continued playing for the reserves until the end of the season, but the following campaign Wimbledon Wednesday split from the main club and he stayed with them, playing until at least 1930/31.


1926/27
: Appearances: 2 - Substitute: 0 - Goals: 0
- Total: Appearances: 2 - Substitute: 0 - Goals: 0
Genealogical Research:
These are research notes and may not relate to the player. Handle with care!

1939 52 Taylor Road, Wallington
Q3 1927 m Lilian E Smith, Chelsea