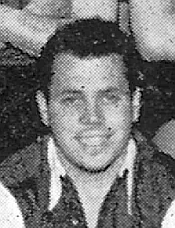 Full Name:
Peter Kenchington
Date of Birth:
c1938
Place of Birth:
Unknown
Date of Death:
02 April 2010
Peter Kenchington
(1957/58 - 1962/63)
Peter had played for Wandsworth Schools regularly for five years before leaving Graveney School, where he also played cricket for Wandsworth and was a champion swinner, and joined the club as a 19 year old from local side Garrett United at the start of the 1957/58 season.

5' 9" and 13 stones, opposing players soon learnt not to judge the tubby centre-forward by appearance. He was always in the shadow of Eddie Reynolds while with the club, but stayed loyal and scored his fair share of goals when he did sporadically break into the side. Left the Dons in 1962/63.

[Ten year gap!] Later turned up for the 1971/72 season at Epsom, and the following year became their player-manager before abruptly retiring a couple of months into the season.
1957/58
: Appearances: 0 - Substitute: 0 - Goals: 0
1959/60
: Appearances: 0 - Substitute: 0 - Goals: 0
1960/61
: Appearances: 0 - Substitute: 0 - Goals: 0
1961/62
: Appearances: 0 - Substitute: 0 - Goals: 0
1962/63
: Appearances: 0 - Substitute: 0 - Goals: 0
- Total: Appearances: 0 - Substitute: 0 - Goals: 0
Genealogical Research:
These are research notes and may not relate to the player. Handle with care!

KENCHINGTON Peter J Battersea London 1938