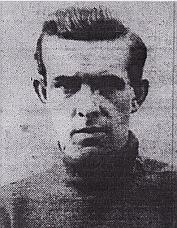 Full Name:
Phil Ledger
Date of Birth:
Unknown
Place of Birth:
Unknown
Phil Ledger
(1957/58 - 1961/62)
Turned down as unfit by the Army and only offered a game on alternate weeks in Woking's third XI, Phil joined Wimbledon just before Christmas 1957.

Originally a centre-forward at Monument Hill School in Woking, captained by Geoff Hamm, Phil took over between the sticks - despite having scored six times in the previous game - when his side conceded three quick goals, and there he stayed.

After leaving school he and Hamm joined Woking Rovers, moved to Woking Y.M.C.A. and then onto Woking in 1953. After realising he was down the pecking order at Woking he left and spent three months at Alton Town before joining the Dons. Initially playing in the reserves and representing the Isthmian League reserve section XI, he was promoted to the first team when Alan Hooper was injured and remained a regular for several seasons.

Described as consistent and reliable, while unspectacular, and would rarely fumble or stand any nonsense from opposing forwards.

He continued to live near Woking's ground, working as an electrical engineer, and after hanging up his boots he continued to work voluntarily with the reserve team until leaving the Dons at during the 1968 close season to take up a position on their committee, eventually serving them for over 50 years and rising to the position of Chairman.
1957/58
: Appearances: 0 - Substitute: 0 - Goals: 0
1958/59
: Appearances: 0 - Substitute: 0 - Goals: 0
1959/60
: Appearances: 0 - Substitute: 0 - Goals: 0
1960/61
: Appearances: 0 - Substitute: 0 - Goals: 0
1961/62
: Appearances: 0 - Substitute: 0 - Goals: 0
- Total: Appearances: 0 - Substitute: 0 - Goals: 0