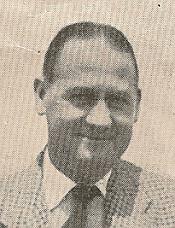 Full Name:
Kenneth Cecil Lister
Date of Birth:
20 February 1911
Place of Birth:
Plumstead, London
Date of Death:
20 February 1986
Ken Lister
(1947/48 - 1951/52)
Born at Heathfield Terrace, Plumstead, in 1911, one of seven children, Ken grew up on the second floor of the small three storey block facing Winn's Common. There were often fires on the Common, so aside from football - playing to representative level locally - and cricket he became fascinated by fire and fire engines and joined the Auxiliary Fire Service before the Second World War. After marrying Dorothy Eallett at St. John's Church, Leytonstone, in 1936, the couple moved to Kidbrooke.

Originally playing at right-half, Ken played for Nunhead and Enfield and assisted Redhill, Tunbridge Wells Rangers and Tottenham Hotspur and was part of the touring Islington Corinthians side. He represented both Kent and Middlesex and was reportedly selected for the 1937 England Amateur International Trial match.

During the War Ken was called up by the London Fire Brigade and, when duties allowed, was captain of the brigade's football team, playing charity games against the likes of an RAF XI (captained by Ted Drake of Arsenal and England fame).

After the War Ken settled into a job as a button and haberdashery merchant in Aldersgate Street, near St. Paul's Cathedral, and joined Leytonstone, converted to centre-half and captained them in his accustomed number five shirt as the Essex club won a swathe of trophies, culminating in the Amateur Cup victory over Wimbledon at Highbury in 1946/47.

When Leytonstone brought in another centre-half from a competing Isthmian League side at the end of that season Ken thought he was being pushed aside, so left to join Wimbledon at the start of the 1947/48 season, immediately taking the captain's role.

Despite his relatively advanced years - already 36 when he joined the Dons - Ken spent five seasons at Wimbledon, even returning after a fractured an arm received during an Amateur Cup game against Hendon a couple of months after his 40th birthday kept him out of action for several months, when he also took the position of assistant secretary.

Having been selected for an International trial in 1937, Ken had also represented the F.A., Athenian League, Kent and Middlesex counties and, during the war, played for the All England National Fire Service XI, but in 1951 he hung up his boots and moved with Dorothy and daughter Daryl to Blackheath, becoming secretary of Leytonstone for the best part of the next two decades, overseeing their victory over Italian club Stefer Roma in the inaugural Coppa Ottorino Barassi (Barassi Cup) in 1968. Ken and Dorothy moved to Buckhurst Hill in 1970 where they lived until Ken passed away on his 75th birthday in 1986.

1947/48
: Appearances: 18 - Substitute: 0 - Goals: 1
1948/49
: Appearances: 30 - Substitute: 0 - Goals: 1
1949/50
: Appearances: 43 - Substitute: 0 - Goals: 4
1950/51
: Appearances: 32 - Substitute: 0 - Goals: 2
1951/52
: Appearances: 4 - Substitute: 0 - Goals: 0
- Total: Appearances: 127 - Substitute: 0 - Goals: 8