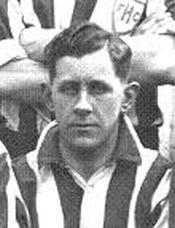 Full Name:
Elwyn Morgan Lloyd
Date of Birth:
Q4 1904
Place of Birth:
Fulham, London
Date of Death:
December 1956
Place of Death:
Westminster
Elwyn Lloyd
(1928/29 - 1930/31)
Part of a large Fulham family born to Welsh parents, and hence known to all as Taffy, outside-left Lloyd first came to prominence at Tooting Town, where he played against Wimbledon in 1924/25 and 1925/26.

After a spell with Dulwich Hamlet he joined Wimbledon from Tufnell Park shortly after the start of the 1928/29 season.

Played for the Dons for two seasons before joining Mortimer Miller's Hayes exodus at the start of their first season in the Athenian League, 1930/31, although he didn't make his first team debut for the Middlesex club until January, and his second match was in the Amateur Cup against Wimbledon, alongside four other ex-Dons. Hayes reached the final that season, Lloyd scoring one in the quarter-final and the only goal in the semi-final against Bishop Auckland. He played and scored regularly until the end of the season.

Reported to be playing for Leyton in 1934/35.
1928/29
: Appearances: 0 - Substitute: 0 - Goals: 0
1929/30
: Appearances: 0 - Substitute: 0 - Goals: 0
1930/31
: Appearances: 0 - Substitute: 0 - Goals: 0
- Total: Appearances: 0 - Substitute: 0 - Goals: 0
Genealogical Research:
These are research notes and may not relate to the player. Handle with care!

1911
73 Moore Park Road Fulham
Father: John
Mother: Sarah