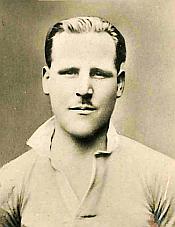 Full Name:
Herbert Clifford Mann
Date of Birth:
30 December 1894
Place of Birth:
Wandsworth
Date of Death:
Q4 1969
Place of Death:
Kingston upon Thames
Bert Mann
(1922/23 - 1925/26)
A splendid all-round sportsman, Bert started his sporting career at Shillington Street school, Battersea, where he captained both the football and cricket XI's and was vice-captain of the swimming team that won the Battersea Schools championship. The cousin of Phil Mead, the Hampshire and England cricketer, who attended the same school, he was selected as reserve for the West London schools for a representative cricket match at the Oval against East London schools. After leaving school he played for All Saints Juniors before travelling to Egypt on War duty. After demobilisation he joined St. Mary's Recreation and was captain when they won the South Western Cup in 1921 and the West London Hospital Shield in 1920 and 1921, gaining representative honours with the Richmond League.

Joining Wimbledon after a trial at centre-half at the start of the 1922/23 season Bert was soon switched to inside-forward and early on picked up the rather derisory nickname of "Arbuckle" due to his portly bearing, but his displays soon won the crowd over and he was re-christened "Smiler" in recognition of his cheery disposition. Playing across the forward line, including centre, he was notably able to direct the ball with his head and was able to pick a pass that his team-mates couldn't fail to profit from, soon leading to a call-up for the Surrey F.A. representative team.

He spent most of the 1924/25 season assisting Brentford's reserves before returning to help the Dons avoid the ignominy of applying for re-election to the Isthmian League, then moved to Kingstonian during the 1925/26 season.
1922/23
: Appearances: 0 - Substitute: 0 - Goals: 0
1923/24
: Appearances: 0 - Substitute: 0 - Goals: 0
1924/25
: Appearances: 0 - Substitute: 0 - Goals: 0
1925/26
: Appearances: 0 - Substitute: 0 - Goals: 0
- Total: Appearances: 0 - Substitute: 0 - Goals: 0
Genealogical Research:
These are research notes and may not relate to the player. Handle with care!

1901
2, Lubech Street, Battersea, Wandsworth
Father: Frederick James, 1858 Middlesex, Pianoforte Music Smith
Mother: Charlotte Eliza, 1868 Kingston

1915 Q2 Wandsworth
Married: Minnie R Jee