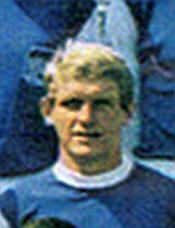 Full Name:
Andrew J Marchant
Date of Birth:
15 November 1950
Place of Birth:
Brighton, Sussex
Andy Marchant
(1971/72 - 1973/74)
Ex-Brighton Schools and Sussex County youth full-back who joined Brighton & Hove Albion aged fourteen and served an apprenticeship as a heating engineer while playing for them as an amateur. Signed professional forms for them on his eighteenth birthday and had a spell on loan at Southend United. Andy was the first of the Brighton & Hove Albion crowd to join Wimbledon, Mike Everitt's first signing.

An all-round sportsman, he was also Sussex Schools Cross Country Champion and represented Brighton at cricket, basketball and athletics. Worked as a taxi-driver while with Wimbledon.

He sustained a double fracture to his right leg against Guildford City in October 1973 and although he returned for a handful of matches at the end of the season, helping the team move away from a potential relegation position, he left the Dons at the end of that season and took up a position as PE teacher at the Dorothy Stringer School in Brighton, where he stayed for over 35 years, rising to senior management.

He received a special recognition award for a lifetime contribution to the development of sport for young people and the wider community after turning a schools sports festival into the TAKEPART Brighton & Hove Festival of Sport.
1971/72
: Appearances: 0 - Substitute: 0 - Goals: 0
1972/73
: Appearances: 0 - Substitute: 0 - Goals: 0
1973/74
: Appearances: 0 - Substitute: 0 - Goals: 0
- Total: Appearances: 0 - Substitute: 0 - Goals: 0
Genealogical Research:
These are research notes and may not relate to the player. Handle with care!