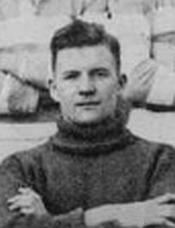 Full Name:
William Sidney Mason
Date of Birth:
31 October 1908
Place of Birth:
Earlsfield
Date of Death:
Q4 1995
Place of Death:
Chichester, Sussex

Bill Mason
(1925/26 - 1928/29)
After making his debut in the reserves at just 17 years old, Bill spent three seasons between the sticks for the Dons before he joined Fulham as a professional.

He Went on to play over 250 Football League games for Queens Park Rangers between 1934 and 1942, and was the beneficiary of a game between the League XI and reserve team in 1939.

He played for the Wimbledon Past XI against the Present team in May 1939.
=== Wikipedia entry ===
William Sidney Mason (31 October 1908 – 1995) was an English professional footballer who played in the Football League for Queens Park Rangers and Fulham as a goalkeeper.
Career statistics

=== Wiki ===