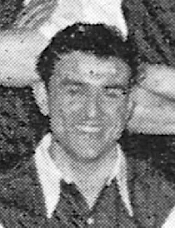 Full Name:
George McWilliams
Date of Birth:
Unknown
Place of Birth:
Unknown
George McWilliams
(1957/58 - 1958/59)
George was a Staff Sergeant P.T.I. in the Parachute Regiment, based at Aldershot, and had played alongside Stan Meadows in Gibraltar, having previously turned down offers of a professional contract from both Stockport County, where he played for two years as an amateur, and Cardiff City.

George joined the Dons from Hampshire League side Alton Town after a trial at the start of the 1957/58 season and was the regular left-wing that season but spent most of the following season free-scoring in the reserves after the arrival of Norman Williams.

A first class gymnast, George took part in the Royal Tournament in 1958.
1957/58
: Appearances: 0 - Substitute: 0 - Goals: 0
1958/59
: Appearances: 0 - Substitute: 0 - Goals: 0
- Total: Appearances: 0 - Substitute: 0 - Goals: 0
Genealogical Research:
These are research notes and may not relate to the player. Handle with care!

Births Sep 1931 (>99%)
McWilliams George T Cooke Manchester S. 8d 165McWilliams George A Stevenson Birkenhead 8a 721