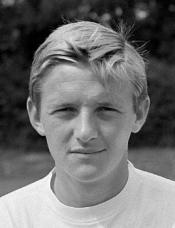 Full Name:
Ronald David Piper
Date of Birth:
16 March 1943
Place of Birth:
Cresswell, Northumberland
Ron started his career as an amateur with Arsenal before moving across north London to Tottenham Hotspur in October 1960. Made his only appearance a week short of his 20th birthday in March 1963 -a 2-0 win at Manchester United - before joining Guildford City the following season.

A slightly built forward, he signed for Wimbledon from Guildford City for the 1966/67 season and served the side well but was unable to win a regular place and was released at the end of the season.
=== Wikipedia entry ===
Ronald David Piper (born 16 March 1943 in Cresswell) is an English former professional footballer who played for Tottenham Hotspur.
Playing career

Piper began his career as an amateur with Arsenal. The inside forward joined Tottenham Hotspur in October 1960. He made one appearance for the Spurs in a 2–0 away win against Manchester United on 9 March 1963. After leaving White Hart Lane Piper played for Guildford City.

=== Wiki ===


1966/67

: Appearances: 0 - Substitute: 0 - Goals: 0

- Total: Appearances: 0 - Substitute: 0 - Goals: 0