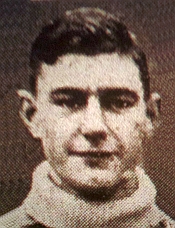 Full Name:
Ernest Stanley Probst
Date of Birth:
Q1 1913
Place of Birth:
Grenwich
Date of Death:
11 Sep 1943
Place of Death:
Salerno, Italy
Goalkeeper, stood in for a single League game during Wimbledon's low-point 1932/33 season, and played in a couple of friendlies before moving on to Merton.

Died in Italy in the Second World War while acting captain in the Royal Artillery's 71st Field Regiment.
1932/33
: Appearances: 0 - Substitute: 0 - Goals: 0
- Total: Appearances: 0 - Substitute: 0 - Goals: 0
Genealogical Research:
These are research notes and may not relate to the player. Handle with care!

Married 1936

Service number 166347

Son of Robert Eugene and Ethel Gladys Probst; husband of Winifred Maude Probst (nee Townsend), of Merton Park, Surrey.