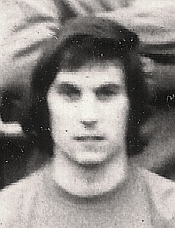 Full Name:
Selwyn Rice
Date of Birth:
1948
Place of Birth:
Barnstaple
Selwyn Rice
(1971/72 - 1976/77)
A tough tackling inside-forward who signed professional forms for Exeter City in 1965 and played twenty times for the Grecians' reserve team, but was released at the end of a struggling season when a new manager was appointed.

Played for Weymouth and, after four seasons at Gloucester City, Mike Everitt beat off interest from Hereford United to lure him to Wimbledon at the start of the 1971/72 season. In October 1972 Everitt agreed to release Selwyn to Guildford City, but the player turned down the move, outlasting the manager and becoming a pivotal part of Allen Batsford's successful Dons side of the mid-70s.

Selwyn struggled to get into the side in 1976/77 - his only competitive start ended with him being sent off at Maidstone - and spent most of the season in the reserves before signing for Cheltenham town for £150 just before the transfer deadline in April 1977.

Wimbledon's last game as a non-league club was Selwyn's testimonial, at the end of the 1976/77 season. After Cheltenham Town he later played for Cinderford Town, Dulwich Hamlet, Gloucester City (again), Cheltenham Town (again) and Barnstaple Town.
1971/72
: Appearances: 0 - Substitute: 0 - Goals: 0
1972/73
: Appearances: 0 - Substitute: 0 - Goals: 0
1973/74
: Appearances: 0 - Substitute: 0 - Goals: 0
1974/75
: Appearances: 0 - Substitute: 0 - Goals: 0
1975/76
: Appearances: 0 - Substitute: 0 - Goals: 0
1976/77
: Appearances: 0 - Substitute: 0 - Goals: 0
- Total: Appearances: 0 - Substitute: 0 - Goals: 0
Genealogical Research:
These are research notes and may not relate to the player. Handle with care!

First Name SELWYN E
Last Name RICE
Mother's Maiden Name SANDERS
Year 1948
Event Quarter 2
Month of Registration -
Country England
County Devon
District BARNSTAPLE
Volume 7A
Page 321
Line Number 74