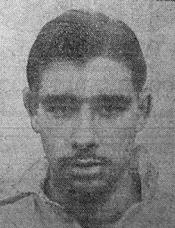 Full Name:
James A Rogerson
Date of Birth:
c1915
Place of Birth:
Unknown
Jack Rogerson
(1939/40 - 1945/46)
A versatile footballer with a powerful shot in both feet and a keen tactical knowledge.

Started playing fro Stepgate School, Chertsey, aged 8, and two years later went to Marylebone, where he played for Hampden Gurney School, even playing in goal during his fourth year there. Took part in a South London Schools' trial.

After leaving school he played for several works teams, including Evershed and Vigroles in the Chiswick and District League, and the Eagle Swifts, where he played against Wimbledon reserves. Joined Kingstonian aged 18 and after a couple of years in the reserves broke into the first team.

Signed for Wimbledon on loan from Kingstonian just before Christmas 1939 and returned to play after WWII hostilities ceased.