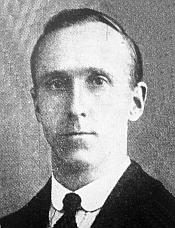 Full Name:
Len Ross
Date of Birth:
Unknown
Place of Birth:
Unknown
Len Ross
(1922/23 - 1924/25)
As a youngster, Ross was a member of the Bedford House school team in Croydon who swept all before them, scoring over 200 goals and beating every team in the district and after leaving school he played for the Old Boys side until War intervened. Returning to England he assisted the Tottenham Wednesday team and was twice invited to play for the senior Tottenham reserve team. Turning down a month long trial at Swansea he signed for A.F.A. side Carshalton, scoring a hat-trick against Reigate Priory from left-half on his debut and winning League representative honours during his time there. Joined Nunhead at the start of the 1921/22 season and played for the Isthmian League, London and Surrey in his season and a half there.

Joined from Nunhead during the 1922/23 season after being continually selected at half-back rather than his preferred full-back position, but ironically played most of the rest of that season at half-back for the Dons, gaining his Surrey cap. Joined Armitage and Goodens during the close season to play in the Swedish Athletic games with the London F.A. Was at left-back for the 1923/24 season.

Also fond of tennis and a decent bat and bowler for Beddington.
1922/23
: Appearances: 0 - Substitute: 0 - Goals: 0
1923/24
: Appearances: 0 - Substitute: 0 - Goals: 0
1924/25
: Appearances: 0 - Substitute: 0 - Goals: 0
- Total: Appearances: 0 - Substitute: 0 - Goals: 0
Genealogical Research:
These are research notes and may not relate to the player. Handle with care!

Births Dec 1896 Ross Leonard Ernest Fulham 1a 324
Births Dec 1899 Ross Leonard Edgar Richmond.S 2a 411