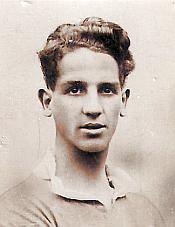 Full Name:
Ronald George Rowe
Date of Birth:
11 October 1902
Place of Birth:
Fulham, London
Date of Death:
Q4 1977
Place of Death:
Chatham, Kent
Ronnie Rowe
(1921/22 - 1929/30)
It would be fair to say that Ronnie Rowe is better known to posterity as the father of the table tennis-playing twins, Diane and Rosalind, than for his own exploits, although they were not inconsiderable.

His playing career began with Latymer School in Hammersmith and continued with Olympus Athletic, runners-up in the Regent's Park Charity Cup in 1919/20. The following season he joined St. Paul's (Knightsbridge) when he stayed until November 1921 when he joined the Dons.

Progressing through the strollers and reserves playing at half-back, winning the South London Charity Cup and Isthmian League Reserve Section title before he was promoted to the first XI after scoring five times for the reserves as a makeshift forward. During this time he was selected for London F.A. Juniors against Surrey F.A. Juniors.

He made approaching 200 appearances for the Dons, playing alongside brother Vic throughout the 1920s, the exceptions being the 1923/24 season when Vic was at Dulwich Hamlet and the 1924/25 season which Ronnie spent at Brentford as they flirted with bottom place in Division Three (South), making his Football League debut on 27 December 1924 at Brighton & Hove Albion and playing 8 times (a win, a draw and six defeats) at inside-forward.

He joined Botwell Mission from Wimbledon in January 1929, when Mortimer Miller, who was on the committee of the Dons and company secretary of the Hayes Cocoa Company, obtained accommodation for him through the Mission's President, John Brown, who was a property developer. Ronnie was engaged to be married at the time (the twins were born in 1933) and saw the club through the transition to Hayes FC, and from the Spartan into the Athenian League, and then to the final of the Amateur Cup in 1931 and victory in the London Senior Cup in 1932. Indeed, the final of that competition was his last game for the club. Inducted into the Hayes Hall of Fame, he made 126 appearances for the Middlesex club, scoring 48 goals, before moving to Hampstead Town (now Hendon). He later played for Uxbridge and Pinner, where he was still active in 1940-1.
1921/22
: Appearances: 2 - Substitute: 0 - Goals: 0
1922/23
: Appearances: 26 - Substitute: 0 - Goals: 2
1923/24
: Appearances: 30 - Substitute: 0 - Goals: 11
1925/26
: Appearances: 32 - Substitute: 0 - Goals: 0
1926/27
: Appearances: 34 - Substitute: 0 - Goals: 1
1927/28
: Appearances: 39 - Substitute: 0 - Goals: 6
1928/29
: Appearances: 21 - Substitute: 0 - Goals: 8
1929/30
: Appearances: 3 - Substitute: 0 - Goals: 2
- Total: Appearances: 187 - Substitute: 0 - Goals: 30