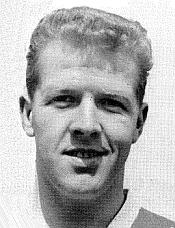 Full Name:
Brian Rudge
Date of Birth:
1936
Place of Birth:
Bury
Brian Rudge
(1958/59 - 1964/65)
After a single match for the reserves at the end of the 1957/58 season, Brian impressed while playing against Wimbledon for army representative side 4th Battalion R.E.M.E. at the start of the following season. Still on National Service, working in the sports store at Borden, near Aldershot, he became the Dons regular left-back.

Before his National Service Brian had spent two seasons at Bury, playing for their 'A' team and reserves. He also played cricket for Lancashire League side Ramsbottom. Not long after joining the Dons he signed amateur forms for Chelsea.

He was to remain first choice left-back for the next four and a half seasons, helping Wimbledon to the first of their three consecutive Isthmian League titles in 1961/62 before the emergence of Dave Willis deprived him of an Amateur Cup final appearance.

He remained with the club, playing in the reserves, until the end of the 1965/66 season before leaving the club.
1958/59
: Appearances: 0 - Substitute: 0 - Goals: 0
1959/60
: Appearances: 0 - Substitute: 0 - Goals: 0
1960/61
: Appearances: 0 - Substitute: 0 - Goals: 0
1961/62
: Appearances: 0 - Substitute: 0 - Goals: 0
1962/63
: Appearances: 0 - Substitute: 0 - Goals: 0
1963/64
: Appearances: 0 - Substitute: 0 - Goals: 0
1964/65
: Appearances: 0 - Substitute: 0 - Goals: 0
- Total: Appearances: 0 - Substitute: 0 - Goals: 0