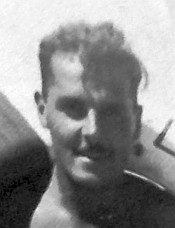 Full Name:
Jack Frederick Blanche
Date of Birth:
27 September 1915
Place of Birth:
Wandsworth District
Date of Death:
09 September 1993
Jack Blanche
(1938/39 - 1945/46)
As a junior goalkeeper Jack won various medals including the South Western Cup. After several games with Nunhead's strollers team. He came to Plough Lane in 1938 via local side Veritas, toured with the club in Holland in Easter 1939 and won a Surrey Senior Cup runners-up medal.

In 1942 Jack married Dorothy, and just prior to joining the R.A.F. played for Southall. During the war he represented R.A.F. XI Calshot in the Hampshire League, later being posted to the Middle East, where he played for the Combined Services XI against Geneva Professional XI, and most of the tip-top Egyptian sides.

Jack was one of the "merry band" that turned out in the first full season after the war before he took over the position of Hon. Press Secretary, during which time he was responsible for the 1949 Diamond Jubilee Handbook, the first time the history of the club had been recorded.