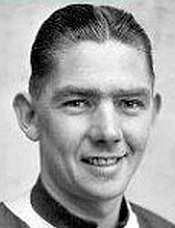 Full Name:
Leslie George Frederick Smith
Date of Birth:
23 March 1918
Place of Birth:
Ealing
Date of Death:
20 May 1995
Place of Death:
Lichfield
The second Dons player to go on to full international honours, winger Leslie Smith, played for the club as a sixteen year old loanee from Brentford, arranged as a favour to Wimbledon director Mortimer Miller. Leslie helped fire the Dons to the Isthmian League title and played in the Amateur Cup final before moving on to Hayes with Mortimer and several other players the following season. Twice represented the Athenian League before returning to Brentford and signing profession forms on his seventeenth birthday.

He gained his England cap in the final pre-War international, a 2-0 victory over Romania in Bucharest on 24 May 1939, in place of the injured Stanley Matthews, and played in thirteen official wartime internationals, scoring three times, as well as two unofficial (FA XI) internationals. During the war he scored both goals when Brentford beat Portsmouth in the 1942 London Cup Final at Wembley and played as a guest for Chelsea, Leicester City, Manchester City, West Bromwich Albion and Aston Villa signing for Villa for £6,500 in October 1945. After over 200 games for the Midland club he returned to Brentford in 1952 for £3,000 but retired at the end of that season and returned to the Midlands, managing Kidderminster for a season before working for Wolves as a scout.
=== Wikipedia entry ===
Leslie George Frederick Smith (13 March 1918 – 20 May 1995) was an English footballer. Smith was the son of Francis Edmond and Ethel-May and he had one sister, Frances (m. Byrne). He was born and educated in Ealing and was a junior with Petersham, before joining Brentford as an amateur on 26 June 1934. Whilst as an amateur he gained experience at both Wimbledon and Hayes F.C. on loan, before turning professional with the Bees in March 1936 as an outside-right. On 24 May 1939, he was capped by England, replacing the injured Stanley Matthews against Romania, to become Brentford's second and final England international to date following Billy Scott in 1936.
When the war broke out, Smith played a vital part in the RAF as a rear gunner, where he consequently met his future wife, Joan (who was part of the women's RAF). However Smith still managed to play for Brentford during the war. He also played 13 wartime internationals for England, 11 whilst a Brentford player and 2 once transferred to Aston Villa. He also played in 3 'unofficial International matches', under the guise of an FA XI, but all players played in England shirts, all were English and all received notification on English FA headed paper.
As a consequence of the Second World War, regionalized football returned.
In October 1945, Smith signed for Aston Villa for a fee of £7,500, where he spent six seasons and became a crowd favourite. In 1952, he returned to Brentford, for a fee of £3,000, where he spent one season before retiring. After his retirement he went into management for a season with Kidderminster Harriers, before becoming a scout for Wolverhampton Wanderers.
Personal life
Smith attended St Dunstan's College in Ealing, where he was a friend of his future Brentford manager Harry Curtis' son Gordon. After leaving Brentford for the second time in 1953, he returned to Aston and ran an electrical business. Smith died of Alzheimer's disease in May 1995.
Honours
As a player

Brentford

Individual

=== Wiki ===


1934/35

: Appearances: 0 - Substitute: 0 - Goals: 0

- Total: Appearances: 0 - Substitute: 0 - Goals: 0