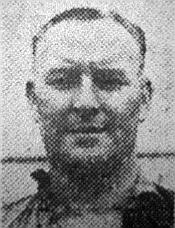 Full Name:
Charles Frampton Edgar Smith
Date of Birth:
06 November 1919
Place of Birth:
Unknown
Date of Death:
2003
Place of Death:
Southend
Charlie Smith
(1948/49 - 1950/51)
Centre-forward, a product of the Greenwich and Deptford schoolboy representative teams, he served in the Royal Artillery from 1940 to 1946. Played for Leytonstone before and immediately after the war, although failed to make the team for the Amateur Cup final and spent most of the following season out of the first team.

Charlie signed by Wimbledon at the start of the 1948/49 season to bolster the attack. Impressed in the Probables vs Possibles trial, scoring twice, then scored on his debut at home to Ilford the following week. A bad injury during the 1950/51 season finally ended his playing days.