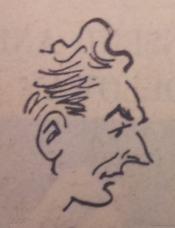 Full Name:
Jim R Smith
Date of Birth:
1920
Place of Birth:
Lanarkshire
Jimmy Smith
(1947/48 - 1952/53)
As a youngster, winger Jimmy played for Glasgow Schoolboys against London.

A pilot during the War, reaching the rank of Flight-Lieutentant, he played regularly for R.A.F. sides before joining Southern Amateur League side Reigate Priory in 1946.

He joined Wimbledon at the start of the 1947/48 season and spent six seasons at Plough Lane, playing on both sides of the front line.
1947/48
: Appearances: 0 - Substitute: 0 - Goals: 0
1948/49
: Appearances: 21 - Substitute: 0 - Goals: 5
1949/50
: Appearances: 33 - Substitute: 0 - Goals: 11
1950/51
: Appearances: 31 - Substitute: 0 - Goals: 6
1951/52
: Appearances: 0 - Substitute: 0 - Goals: 0
1952/53
: Appearances: 0 - Substitute: 0 - Goals: 0
- Total: Appearances: 85 - Substitute: 0 - Goals: 22
Genealogical Research:
These are research notes and may not relate to the player. Handle with care!

Married Sep 1952