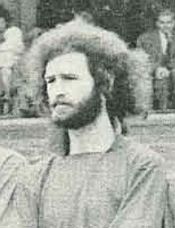 Full Name:
Kieron Somers
Date of Birth:
c1946
Place of Birth:
Unknown
Kieron Somers
(1974/75 - 1975/76)
A 6' 3" Irish amateur international forward, one of many ex-Walton & Hersham players who joined the club with Allen Batsford in 1974/75.

Keiron joined Walton from Wembley soon after the start of the 1968/69 season, having previously been at Wealdstone, and after winning the Amateur Cup with Walton he and Roger Connell spent the 1973/74 season at Hendon before linking up again by Batsford at the Dons, forming one half of the very successful forward partnership that lead Wimbledon to the first two of their three consecutive Southern League titles and the famous 1974/75 F.A. Cup run.

He left for Slough Town at the start of the 1976/77 season where he carried on his goal-scoring exploits over the following two seasons, bagging 36 goals in 90 appearances.