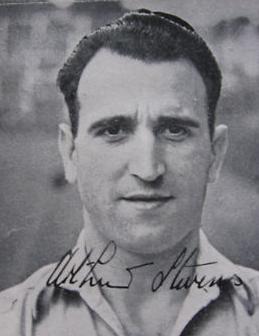 Full Name:
Arthur Stevens
Date of Birth:
13 January 1921
Place of Birth:
Wandsworth, London
Date of Death:
15 January 2007
Arthur Stevens
(1938/39 - 1941/42)
Without doubt one of the best players to wear the Wimbledon shirt during the pre-League era, "Pablo" started as a seventeen year old winger in the strollers (3rd) team of 1938/39. Within a week of his eighteenth birthday he was promoted to the reserves, and within a fortnight he was scoring on his debut for the first team in a Surrey Senior Cup game against Post Office Engineers. Played and scored regularly until the club closed down after two disastrous games at the start of the 1941/42 season, and played a handful of games at Brenford (for who he had already signed amateur forms at the back end of his first season) and Sutton United before joining Fulham.

During the War he saw action in the artillery and took part in the D-Day landings.

Scored 124 goals in 413 appearances for Fulham before hanging up his boots at the end of the 1958/59 season, but remained at the club as a coach, spending five weeks as caretaker manager in 1964/65 before leaving when Vic Buckingham arrived.