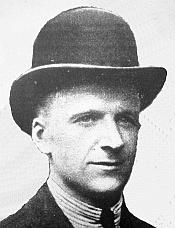 Full Name:
Henry George Boase
Date of Birth:
1898
Place of Birth:
Plymouth, Devon
George Boase
(1921/22 - 1927/28)
George played rugby at school, and it was only on moving to London for business that he started playing football for a local junior club in Essex. He played while on service in the Army and joined Leytonstone for the back end of the 1918/19 season on demobilisation. He moved to Spartan League side Newportonians - who played all their games away from home - for the 1919/20 season. then joined Athenian League side Cheshunt. They failed to seek re-election, but were champions of the Southern Amateur League the following season, losing only one league game.

He joined Wimbledon during that 1921/22 season and made his first team debut in an end of season friendly. He captained the reserves to the league title the following season, winning a call up for the Isthmian League (Reserve Section) against the London League, and his patience was rewarded when he became a regular in the half-back line after the departure of England international George Armitage to Charlton Athletic. Described as very speedy, second only to Armitage with his ball control, and making up for his lack of height with a fearless tackle, he was also considered a born humorist and could usually be relied upon to entertain the crowd.

A clever exponent with a billiards cue, he won trophies in that past-time too.
1921/22
: Appearances: 1 - Substitute: 0 - Goals: 0
1922/23
: Appearances: 4 - Substitute: 0 - Goals: 0
1923/24
: Appearances: 3 - Substitute: 0 - Goals: 0
1924/25
: Appearances: 31 - Substitute: 0 - Goals: 0
1925/26
: Appearances: 37 - Substitute: 0 - Goals: 0
1926/27
: Appearances: 23 - Substitute: 0 - Goals: 0
1927/28
: Appearances: 13 - Substitute: 0 - Goals: 0
- Total: Appearances: 112 - Substitute: 0 - Goals: 0
Genealogical Research:
These are research notes and may not relate to the player. Handle with care!

Henry George Boase
b Q2 1898 Stoke Damerel, Plymouth
1911 93 Keogh Rd, Stratford