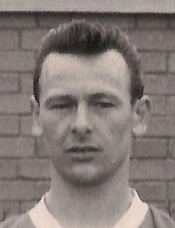 Full Name:
Frank W Tolfrey
Date of Birth:
Q3 1936
Place of Birth:
Croydon
Frank Tolfrey
(1957/58 - 1963/64)
As a youngster Frank represented Croydon Schools, and after leaving school played for the Old Boys team before National Service took him to Hong Kong, where he played for an Army XI and the Combined Services team. As he finished his enforced two years he had a try-out at Chelsea. Though unsuccessful, manager Ted Drake pointed him in the direction of Wimbledon, where he was soon in the 'A' team, helping them to the Surrey Combination Cup and then moving up into the reserves, gathering interest from West Ham.

Although he never really established himself in the first team he was the ultimate team player and could always be relied upon to cover any position required. An early highlight was as cover for Jim Wright in the London Challenge Cup tie against Arsenal at Highbury in October 1958.

Frank, who also enjoyed swimming and cricket, continued to provide cover until the Dons turned professional in 1964, and then carried on playing in the reserves until the end of the 1965/66 season, and after hanging up his boots when he wasn't retained as a player he stayed with the club as reserve team trainer.
1957/58
: Appearances: 0 - Substitute: 0 - Goals: 0
1958/59
: Appearances: 0 - Substitute: 0 - Goals: 0
1959/60
: Appearances: 0 - Substitute: 0 - Goals: 0
1960/61
: Appearances: 0 - Substitute: 0 - Goals: 0
1961/62
: Appearances: 0 - Substitute: 0 - Goals: 0
1963/64
: Appearances: 0 - Substitute: 0 - Goals: 0
- Total: Appearances: 0 - Substitute: 0 - Goals: 0