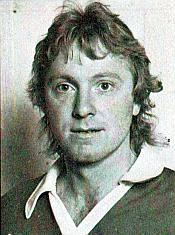 Full Name:
John Margerrison
Date of Birth:
1955
Place of Birth:
Bushey, Hertfordshire
John Margerrison
(1982/83)
John Margerrison was a strong midfielder with a good passing range who attended Holmshill Secondary Modern School in Bushey, then grew up in Boreham Wood. He played for the Boreham Wood district team, Hertfordshire Boys and had a trial for England Schoolboys. He had started as a goalkeeper, but moved into central midfield, dreaming of being his Spurs hero Jimmy Greaves one day.

Having had trials at Leeds United, Crystal Palace and West Ham United, John had been spotted playing for Hertfordshire Boys and was taken on by Tottenham in April 1971 and he made it through the Spurs youth system to the reserves, where he played alongside Graeme Souness and Glenn Hoddle. Signed professional forms at Spurs in December 1972, but did not get selected for the first team.

Left for Fulham on a free transfer in 1975 and found himself lining up with George Best. However, after a disagreement with manager Bobby Campbell, Margerrison left for Orient in 1979, where he was paid £170 plus bonuses a week. But his time at Brisbane Road was not a happy one (especially as he had his leg broken in a challenge by Keith Bertschin of Norwich City early on in his time with the O's) and he left to train with Wimbledon, but ended up signing for Wealdstone, where he had a short stay before heading for Kansas City Comets, who played indoor league football.

After that he returned to Europe to play in Holland, but when his wife fell pregnant and they wanted to return home, he got a call from Barry Fry, who was the Barnet manager inviting him to play at Underhill.

Later played for Barnet (scoring 23 goals in over 200 games), Wealdstone, St. Albans, Dunstable Town and Brache Sparta.

John was keen on golf and tennis and could play guitar very well. Enjoys fishing.
1982/83
: Appearances: 0 - Substitute: 0 - Goals: 0
- Total: Appearances: 0 - Substitute: 0 - Goals: 0