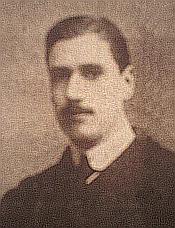 Full Name:
George Frederick Cannon
Date of Birth:
15 February 1891
Place of Birth:
Hammersmith, London
Date of Death:
4 January 1951
Place of Death:
Windsor, Berkshire
George was a forceful, bustling centre-forward who first came to prominence leading Mortlake to the Hammersmith League title in 1908/09. He then joined Tooting Town where he stayed for five years, three as captain, originally playing alongside Wimbledon's 1912 resuscitator Johnny Canham, and representing Surrey.

He Joined Fulham in 1914, scoring 5 goals in 6 League games for them before War interrupted.

During the War he served in the Royal Navy Air Force, which later became the Royal Air Force, representing the Navy twice, against the Army and the Royal Flying Corp and the RAF against an Army & Navy XI.

After the War, he joined Brentford, scoring once in 6 senior appearances in the 1919/20 season, and the following campaign he signed Athenian League forms for Wimbledon.

After a successful season at Wimbledon, where he lead them to second place, the Dons were elected to the Isthmian League, and it appears that his previous professional status made him ineligible and he moved to Kent League professionals Margate.
=== Wikipedia entry ===
George Frederick Cannon (15 February 1891 – 4 January 1951) was an English professional football inside right who played in the Football League for Fulham.
Personal life
Cannon worked as a private secretary and served in the Royal Air Force during the First World War.
Career statistics

=== Wiki ===


1920/21

: Appearances: 0 - Substitute: 0 - Goals: 0

- Total: Appearances: 0 - Substitute: 0 - Goals: 0

Genealogical Research:
These are research notes and may not relate to the player. Handle with care!

Births Mar 1891 CANNON George Frederick Fulham 1a 259
According to Fulham website born 25 December 1891