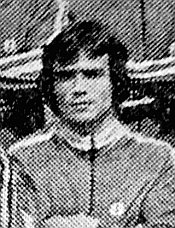 Full Name:
Phil Davidson
Date of Birth:
Unknown
Place of Birth:
Unknown
A forward who joined the club as a 21 year old at the start of the 1971/72 season after Ted Murphy held trials for the newly formed Suburban League reserve team.

Born in Fulham, but moved to Croydon when he represented Croydon Schools alongside Steve Kember. After leaving school he played for his works team and in the Middlesex League for Barnes.

Early goals in the Suburban League saw him called up from the subs' bench for a debut at Cambridge City in September 1971, but his chances were restricted to a handful of substitute appearances and he moved on to Dulwich Hamlet the following season, along with several of the Club's Suburban League regulars.
1971/72
: Appearances: 0 - Substitute: 0 - Goals: 0
- Total: Appearances: 0 - Substitute: 0 - Goals: 0
Genealogical Research:
These are research notes and may not relate to the player. Handle with care!

First Name PHILLIP
Last Name DAVIDSON
Mother's Maiden Name GOODING
Year 1948
Event Quarter 3
Month of Registration -
Country England
County London
District FULHAM
Volume 5C
Page 662
Line Number 63