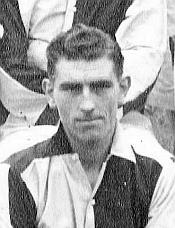 Full Name:
Gordon Brogdale
Date of Birth:
Unknown
Place of Birth:
Unknown
A prodigious goalscorer, Gordon Brogdale was captain of Norbury Manor School at both football and cricket and represented Croydon & District on several occasions, winning the Victor Ludorum medal for best all round schoolboy athlete in both 1931 and 1932. He joined Epsom Town as a fifteen year old from Beckenham in 1934/35 and played on and off for them both pre and post war. He made his first team debut for Epsom in 1937 but was another of those players who lost their best years to the war, although he turned out for Crystal Palace's Combination side during that period.

Having also played recently for Folkestone, Brogdale joined Wimbledon in December 1947 and was quickly promoted through the strollers and reserves before making his first team debut at the end of January 1948 in an Amateur Cup game against Wealdstone. He scored four goals in the 11-3 Isthmian League victory over Clapton, but lost his place at the start of April.

Also played for Redhill, Wandsworth United and Croydon Amateurs and was reported to have scored over 400 goals in 12 seasons, as well as many first class centuries at cricket (as yet unknown who for).

1947/48
: Appearances: 0 - Substitute: 0 - Goals: 0
- Total: Appearances: 0 - Substitute: 0 - Goals: 0
Genealogical Research:
These are research notes and may not relate to the player. Handle with care!

BROGDALE Johnson G G Croydon Surrey 1917