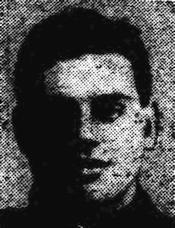 Full Name:
Thomas Sidney Gates
Date of Birth:
16 August 1893
Place of Birth:
Streatham, London
Date of Death:
Q1 1975
Place of Death:
Camberwell, London
Thomas Gates
(1912/13 - 1921/22)
Thomas joined Wimbledon when they reconstituted and moved to Plough Lane at the start of the 1912/13 season, and despite still being in his teens he was the regular centre-forward for much of the next three seasons.

When the Great War intervened he joined the Army and played regularly there, where he converted to right-half.

After the War he joined Tooting Town and was captain of their successful Southern Suburban League winning side of 1920/21.

He returned to the Dons to play against Amateur Cup finalists, South Bank, over Easter 1922, and was noted for his performance before injuring a knee during the first half in what proved to be his last appearance for the club.
1912/13: Appearances: 0 - Substitute: 0 - Goals: 0
1913/14: Appearances: 0 - Substitute: 0 - Goals: 0
1914/15: Appearances: 0 - Substitute: 0 - Goals: 0
1921/22
: Appearances: 0 - Substitute: 0 - Goals: 0
- Total: Appearances: 0 - Substitute: 0 - Goals: 0
Genealogical Research:
These are research notes and may not relate to the player. Handle with care!

1893 Streatham, m: Mary Emma Gladwin f: Thomas
1893 15 Sep baptised St Albans CoE, Streatham Park along with Caroline, Amy, James and Ellen, living in Mitcham Lane
1901 15, Fountain Road, Tooting, School
1911 15, Fountain Road, Tooting, General Labourer
1922 Q2 married Kathleen E MacBeth in Wandsworth
1929-1934 106 Gleneagles Road, Streatham
1935-1939 32 Godley Road , Wandsworth
1939 Drainage Plasterer Heavy Worker