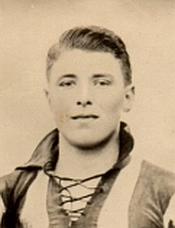 Full Name:
William Cecil Caesar
Date of Birth:
18 November 1899
Place of Birth:
Clapham, London
Date of Death:
05 April 1988
Place of Death:
Richmond-upon-Thames, Surrey
Bill Caesar, born in 1899, is one of only a couple of Dons to have merited an obituary in Wisden!

Like his brother, Eric - who joined Wimbledon in 1929, he started with Dulwich Hamlet, playing alongside school friend Edgar Kail during the Great War, while those of fighting age were away in France. He played a handful of matches for Wimbledon in the club's second season in the Athenian League before returning to the Hamlet.

He won amateur caps against South Africa at Tottenham in November 1924 and against Ireland at Maidstone in 1925, and also toured Australia with the English F.A. XI in 1925 - playing in the 2-0 win in the final match of 5 against the Australian international side - and in 1929 with Dulwich.

Bill then played for The Amateurs against The Professionals (The Amateurs won 6-1) in the 1925 Charity Shield, also at White Hart Lane.

He then started wandering, joining Brentford as captain of their reserve side, making his Football League début at Fulham in October 1929 at the age of almost 30.

In March 1931, when Hayes was hopelessly behind with its league fixtures because of its success in cups, he joined as cover for the fixture back-log, doubtless at the instigation of his younger brother. As chance would have it, Alf Butcher, the regular left-half, was injured in the Middlesex Senior Cup final only five days before the Amateur Cup final, so Bill Caesar was obliged to play. With only ten minutes of normal time to play and the score goalless, a scrimmage took place in front of the Hayes goal, and a hand, that of Bill Caesar, was seen by the referee to push the ball away. Penalty. Goal. Defeat at the last hurdle, and all attributable to Bill Caesar. All in all, he played only three games for Hayes, for certain (because of the need to play nine league matches in the last three weeks of the season, some went unreported).

He later played for Kingstonian (1933-4), Harwich (1936) and Barking (1938), as well as for Darlington, Fulham and Walsall.

All of this is extraordinary enough, but the reason for his entry in Wisden is even more so. He first played for Surrey, his home county, in 1922, when he was described as 'a distinctly quick bowler'. But he did not make his next appearance in the County Championship until 1946, for Somerset, when he took 10 wickets in three matches at an average of 25.2. The gap of 24 years between appearances has only been once exceeded.

He died in April 1988.
=== Wikipedia entry ===
William Cecil Caesar (25 November 1899 at Clapham, London – 5 April 1988 at Richmond-upon-Thames, Surrey), played first-class cricket for Surrey in one match in 1922 and then, 24 years later, in three matches for Somerset in 1946.
Cricket career
Caesar was a lower-order right-handed batsman and a right-arm medium fast bowler, "distinctly quick" in his younger days, said his obituary in Wisden. He was picked in a reduced-strength Surrey side for a first-class match against Scotland in June 1922, not batting and failing to take a wicket in 14 overs. Across the following years, he played on occasion for Surrey's second eleven in the Minor Counties Championship and for the Civil Service cricket team in minor matches.
Then, in 1946, "no more than military medium and of comfortable build by then", says one account, he played three matches for Somerset. Wisden described him at this stage as a "Bath amateur". In his first game for Somerset, against Leicestershire at Melton Mowbray, he scored 5 not out and then 7, and these were his highest batting scores in first-class cricket; in Leicestershire's innings, he took two for 11 and four for 59, and these were the best bowling returns of his career.
Caesar was also a well-known amateur football player and played for the England international team, as well as for Football League teams such as Darlington, Fulham and Brentford.

=== Wiki ===


1920/21

: Appearances: 0 - Substitute: 0 - Goals: 0

- Total: Appearances: 0 - Substitute: 0 - Goals: 0

Genealogical Research:
These are research notes and may not relate to the player. Handle with care!

Married Gladys H Baillie, Kensington 1929

Year 1914-20
Service number 78169
Rank Private
Regiment Royal Fusiliers
Service record Soldier Number: 78169, Rank: Private, Corps: Royal Fusiliers
Stationed in Bath

1939
4 St Mary's Avenue , Twickenham
Civil Servant Admiralty
W: Gladys (1902)
C: 2