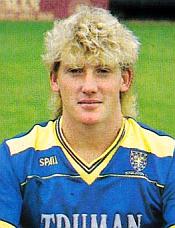 Full Name:
Kevin Gage
Date of Birth:
21 April 1964
Place of Birth:
Chiswick, Middlesex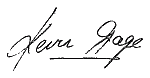 Kevin Gage
(1980/81 - 1986/87)
The Dons youngest ever Football League debutant, 'Gagey' was an important squad member, able to play at both full back and midfield during Wimbledon's meteoric rise into the top flight. Later moved to Aston Villa for £100,000 and then went on to rejoin Dave Bassett at Sheffield United.
=== Wikipedia entry ===
Kevin Gage (born 21 April 1964) is a former professional footballer. He started his career with Wimbledon FC & went on to play for nearly 19 years with five clubs, making close to 500 league & cup appearances.
WIMBLEDON FC
Joining straight from school as an Apprentice, Gage was an unused sub aged just 16 in his first year at the club, later making his league debut a few days after his 17th birthday. He remains the youngest ever player to play for Wimbledon FC. Although a midfield player, Gage was primarily used in a full back role as Wimbledon's 'Crazy Gang', managed by Dave Bassett, rose through the divisions to the top flight in only 4 years. He holds the distinction of playing & scoring for the same club in all 4 divisions of the Football League. In 1981-82, Gage gained 5 England Youth caps & played in the Youth World Cup finals in Australia.
ASTON VILLA FC
In June 1987, Gage was bought by Aston Villa for £250,000 to be part of Graham Taylor's new regime to restore Villa to the top division after relegation the previous season. In his first season, Gage was a league & cup ever-present, as Villa gained promotion as Division 2 runners-up. In the following two seasons, Gage was used in a variety of positions, switching from full-back to midfield, and also a wing-back, as Aston Villa ran Liverpool very close to the league title, eventually finishing second in 1989-90 season. After Graham Taylor left for the England Managers job, & following Ron Atkinson's re-shaping of the team, Gage left for Sheffield Utd in Nov 1991.
SHEFFIELD UTD FC
Gage joined up once more with old boss Dave Bassett, and after scoring on his Utd debut, helped the team rise from bottom of the table to a 9th-place finish in the last season of the old Division One. The following season, he was part of the team that competed in the new Premier League. The Blades remained in the Premier league that season, but were relegated in 1994. Gage was also Sheffield Utd Player of the Season 1994-95. Following the departure of Dave Bassett midway through the following season, Gage left to join League Two runaway leaders Preston North End.
PRESTON NORTH END FC
In the first league game as a newly promoted team, Gage sustained a serious knee injury, & was out of action for 4 months. Despite making a full recovery & after a few games towards the end of the season, Gage joined Hull City in the summer of 1997.
HULL CITY
Injuries once again took their toll, limiting Gage's appearances, & he retired from professional football at Christmas 1999, cancelling his contract.
Notes

=== Wiki ===


1980/81

: Appearances: 0 - Substitute: 0 - Goals: 0

1981/82

: Appearances: 0 - Substitute: 0 - Goals: 0

1982/83

: Appearances: 0 - Substitute: 0 - Goals: 0

1983/84

: Appearances: 0 - Substitute: 0 - Goals: 0

1984/85

: Appearances: 0 - Substitute: 0 - Goals: 0

1985/86

: Appearances: 0 - Substitute: 0 - Goals: 0

1986/87

: Appearances: 0 - Substitute: 0 - Goals: 0

- Total: Appearances: 0 - Substitute: 0 - Goals: 0