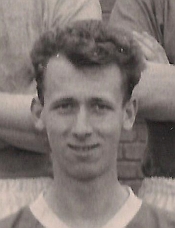 Full Name:
Brian Goodall
Date of Birth:
Unknown
Place of Birth:
Unknown
Brian Goodall
(1954/55 - 1959/60)
A wing-half at Wandsworth Technical College, where he also won representaive honours as a wicket-keeper for London Schools, Brian converted to centre-forward on leaving school when he joined a local junior side. After playing regularly for his R.A.F. station during National Service he applied to join Wimbledon during the 1953/54 season and, after one game in the 'A' team, was soon a regular in the reserves.

He made a goal-scoring debut in November 1954 and was a regular, albeit infrequent, first team stand-in over the the next six seasons.

A qualified lifeguard and an enthusiastic tennis player, he was playing at Malden Town (with Roy Dobson) at the start of the 1963/64 season.
1954/55
: Appearances: 0 - Substitute: 0 - Goals: 0
1955/56
: Appearances: 0 - Substitute: 0 - Goals: 0
1956/57
: Appearances: 0 - Substitute: 0 - Goals: 0
1957/58
: Appearances: 0 - Substitute: 0 - Goals: 0
1958/59
: Appearances: 0 - Substitute: 0 - Goals: 0
1959/60
: Appearances: 0 - Substitute: 0 - Goals: 0
- Total: Appearances: 0 - Substitute: 0 - Goals: 0
Genealogical Research:
These are research notes and may not relate to the player. Handle with care!

GOODALL Brian C Kingston Surrey 1931
GOODALL Brian R Wandsworth London 1933