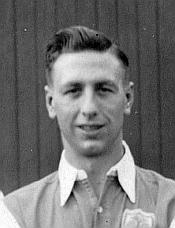 Full Name:
Edwin E Jennings
Date of Birth:
12 May 1930
Place of Birth:
Wimbledon
Date of Death:
28 November 2012
Eddie Jennings
(1946/47 - 1958/59)
Younger brother of Tom, Wimbledon's reserve team trainer for many seasons, Eddie was born in Durnsford Road and attended Wimbledon Park secondary school, where he played three seasons for Surrey Boys, and was captain for two, when they reached the final of the Southern County Shield.

As a Dons fan from an early age, his dream of putting on the blue and white shirt was realised in real Roy of the Rovers fashion when, as a sixteen year old spectator at a reserve team match in 1946/47, he was plucked from the crowd to fill in at outside-right when the selected player was unable to take the field.

He was to play regularly at full-back for the reserve and strollers sides for five years before an opportunity arose in the first team, filling in for first Arthur Maggs then Pat Field over Christmas 1950/51. He gained a regular spot in the first XI in February 1953, a position he held until the emergence of Derek Holyoake at the start of the 1956/57 season. By now captain of the reserves Eddie continued to cover illness and injury in the senior side until the end of the decade.
1946/47
: Reserves
1947/48
: Reserves
1948/49
: Reserves
1949/50
: Reserves
1950/51
: Appearances: 8 - Substitute: 0 - Goals: 0
1951/52
: Appearances: 2 - Substitute: 0 - Goals: 0
1952/53
: Appearances: 4 - Substitute: 0 - Goals: 0
1953/54
: Appearances: 16 - Substitute: 0 - Goals: 0
1954/55
: Appearances: 30 - Substitute: 0 - Goals: 0
1955/56
: Appearances: 38 - Substitute: 0 - Goals: 0
1956/57
: Appearances: 6 - Substitute: 0 - Goals: 0
1957/58
: Reserves
1958/59
: Reserves
- Total: Appearances: 104 - Substitute: 0 - Goals: 0