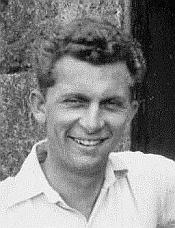 Full Name:
Jack Laing Rigby
Date of Birth:
05 September 1934
Place of Birth:
Ealing, London
Date of Death:
2007
Place of Death:
Bournemouth, Dorset
A regular in the reserves, Jack made a single appearance for the first team in the 1956/57 season.

He married Doreen in 1958 and they lived in Vauxhall, Jack working as an estimator for F.G. Minter & Son, later moving to Hemel Hempstead and joining Bernard Sunley & Son.

Jack continued to play football (for a team currently unknown) until fracturing his back in a fall, necessitating a long recovery in a body plaster and then an NHS corset.

Jack and Doreen emigrated to Canada in the mid-1960s, returning to Christchurch, Dorset, 36 years later, where Jack passed away in 2007.
1956/57
: Appearances: 1 - Substitute: 0 - Goals: 0
- Total: Appearances: 1 - Substitute: 0 - Goals: 0